Boudoir photography is the most profitable genre of photography out there – and it's growing fast!
If you're considering getting started in boudoir photography, go for it! Now is the perfect time to switch up your business strategy and start shooting something you love – and making a profit.
As the founder of Photography to Profits and co-founder of The High Rollers Club, I can tell you without a doubt that boudoir photography is the fastest-growing photography trend in the United States.
Should you get started in boudoir photography? Is it already too late to start? Let me break down the growing demand for boudoir photographers and why studios like yours are jumping on the boudoir bandwagon.
Here's what the recent boudoir trend means for your business.
Boudoir vs. Wedding vs. Family Photography
Compared to other genres, boudoir photography is rising in interest – and even trending – on Google.
Google Trends offers a free service that allows you to "Explore what the world is searching." Let's take a look at the public interest in boudoir photography versus its two major competitors, wedding and family photography.
Google Trends For Boudoir Photography
Want to see what the United States thinks about boudoir photography? Here's its interest chart for the past five years.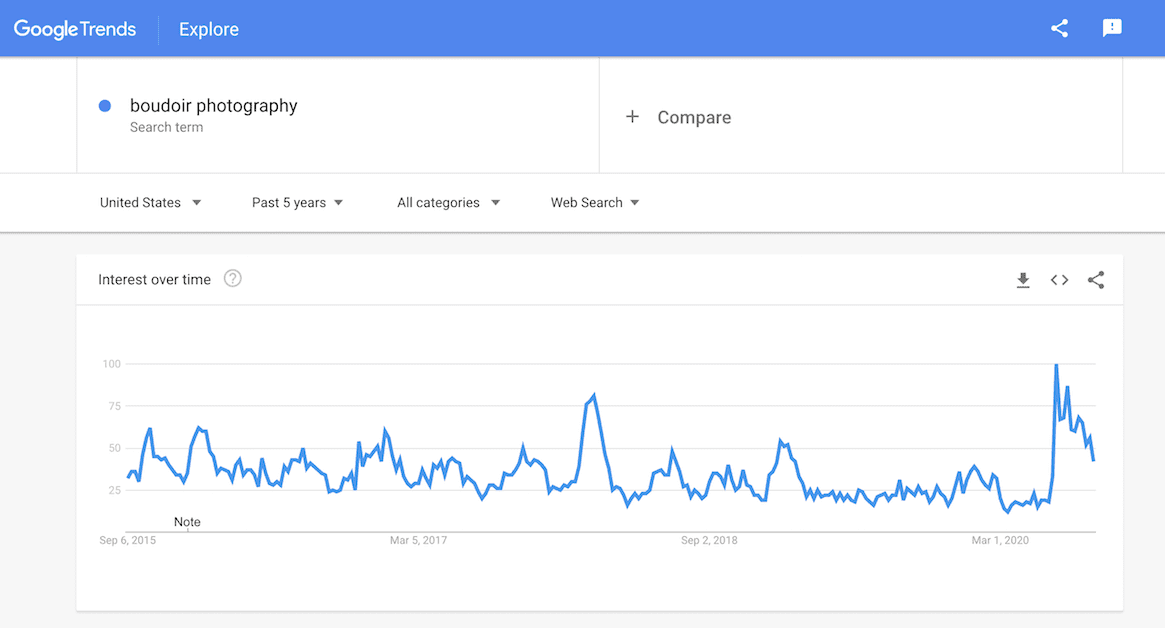 As you can see, searches for the term "boudoir photography" drastically inclined in the past year, with the interest over time exceeding the scale of 100 just last month. Interest in boudoir photography is the highest its ever been, and it will only continue to rise with time.
Google Trends For Wedding Photography
But what about wedding photography?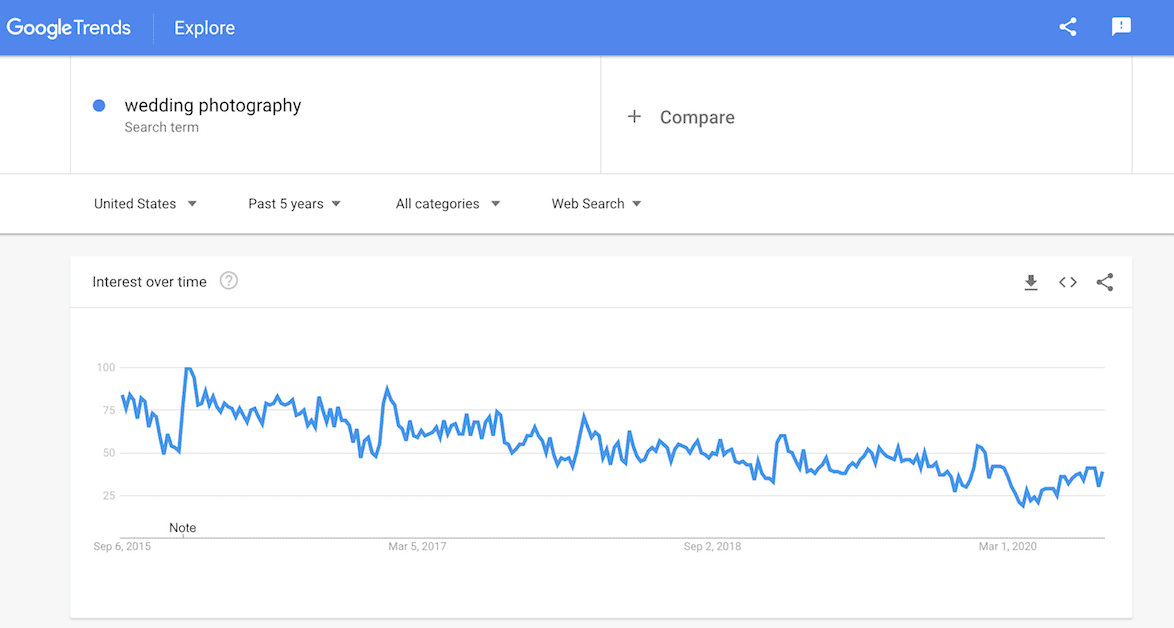 Five years ago, wedding photography might have been the most popular genre of photography. But now? Look at the chart!
Interest over time for wedding photography has gradually declined for five years, and it won't pick back up again anytime soon.
Google Trends For Family Photography
Compare family photography to boudoir and wedding photography and tell me what you find.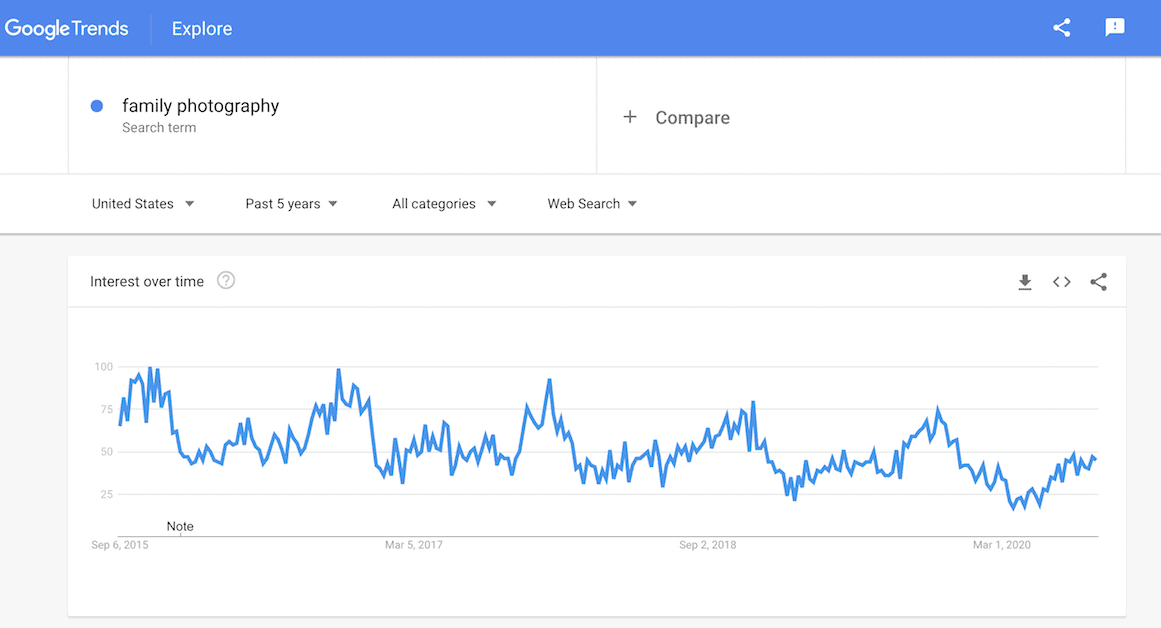 Much like wedding photography, interest over time for family photography has steadily declined over the past five years.
Family photography might be doing better this year, but considering the up-and-down trend, this honeymoon phase won't last for long.
Why Is Boudoir Such A Popular Search Term?
We can't just look at the public interest in boudoir photography and call it a day. To determine the value of its fame, we need to know why boudoir photography is suddenly so popular – and if its popularity will last.
Google Trends offers an exclusive look into the related topics and queries of your search term, meaning that users who searched for the term also searched for these topics and queries. This tells you how users encountered boudoir photography on Google, and we can use it to find out how much these search trends are really worth.
Let's go back to Google Trends and compare. How did all these Googlers happen upon boudoir, wedding, and family photography?
How Googlers Found Boudoir Photography
First, let's check out all the hype about boudoir photography.

According to Google Trends, users who specifically Google "boudoir photography" also search the topics "milk bath," "portrait photography," "pricing," and "photo shoot." They also search for plus-size and amateur boudoir photography, "boudoir photography near me," and even a boudoir studio, Boudoir Photography By Erin.
All of these search topics and queries are actually related to boudoir photography, meaning users aren't just stumbling upon boudoir photographers – they're specifically looking for them! And all of these related terms are rising in popularity.
How Googlers Found Wedding Photography
Let's see how boudoir and wedding photography match up.

Users who search for wedding photography also search for "hashtag," "Melbourne," "Sony," "Unmanned aerial vehicle," and "Sydney."
Some of these so-called "related" topics are distantly related to wedding photography – and I do mean distantly. Melbourne is a popular wedding destination, and perhaps those searching for "Sony" and "unmanned aerial vehicle" are wedding photographers themselves.
This is how users search for wedding photography on Google – but it looks like most of the users who search for wedding photography are either photographers themselves or just happy couples looking for wedding inspiration.
How Googlers Found Family Photography
Family photography doesn't stack up any better. Take a look.

You're seeing what I'm seeing, right?
The top related search topics for "family photography" are "hashtag," "sunset," "documentary photography," "Canon EF lens mount," and "MINI Cooper."
I only have one question. What does "MINI Cooper" have to do with family photography?
Googlers aren't interested in family photography, either. Sure, at least the related search queries are relevant to the genre, but the related topics are a different story altogether.
Why Should You Shoot Boudoir?
Boudoir photography takes the cake! Internet users are genuinely interested in the genre, and they're already Googling ideas for their shoots (like "milk baths"!).
If you're interested in shooting boudoir photography, now is the perfect time to get in the game. It's never too late to switch your specialization. Start now and watch as your studio grows into the photography business of your dreams.
Need some help with that? Click here and submit the contact form to work with us directly or email humberto@photographytoprofits.com.
Not already a 6-figure studio? We've got you covered! Visit The High Rollers Club and inquire about our mentoring program.
If you want to hear more from photography studios themselves, visit The High Rollers Club's Testimonial page.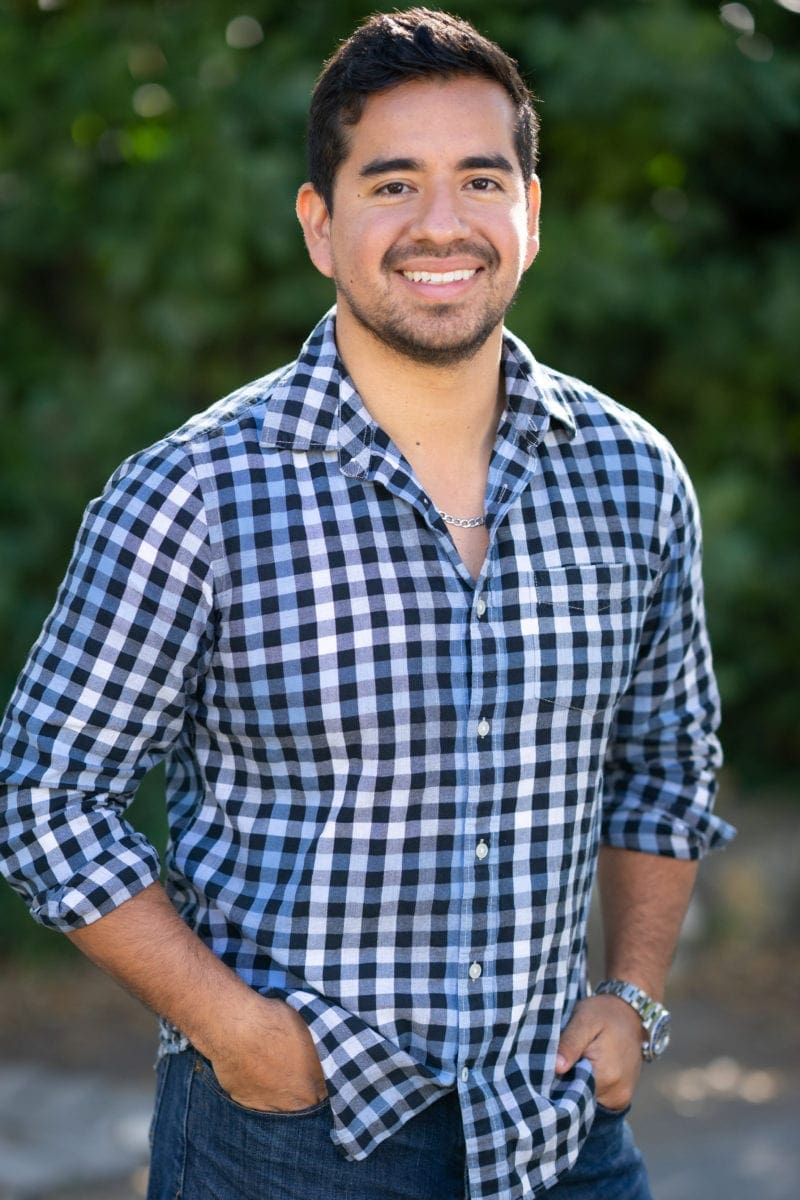 Humberto Garcia is the world's leading photography business growth expert.
Founder of Photography to Profits and high-performance coach to multiple 6-figure photography businesses. Humberto coaches photographers from his special operations military experience and photography sales and marketing experience. After years of high performance in Marine Special Operations and building businesses, he knows what works.